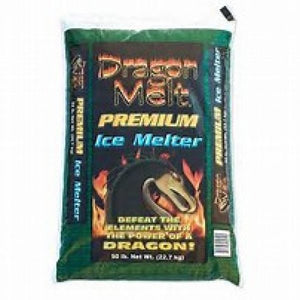 Dragon Melt Pallet 56 per pallet
Sodium Chloride, Magnesium Chloride
Melts Quicker and is less Corrosive
50 lb bags 56 bags per pallet
UNIFORMED, FREE FLOWING FORMULA WITH A TOUCH OF GREEN
Small uniform granules allow for even applications Dragon Melt includes an organic anti-caking compound. Never deal with clogged spreaders again. Green colored granules also provide a significantly greater source of spread control and less product waste. Green color is water based and will not stain.
MELTING PROPERTIES
Granules are coated with liquid Magnesium Chloride. This proprietary process delivers 3 times the melting performance of other brands at temperatures below 10 F. In fact, Dragon Melt's unique blend of melting agents will melt ice to -12 F.
SAFER ON CONCRETE, VEGETATION AND FLOORS
Dragon Melt works quickly and more effectively than plain rock salt. It will also not harm your lawn and plants when used according to directions. Unlike other ice melters, Dragon Melt will not leave a slippery residue on carpets or floors.