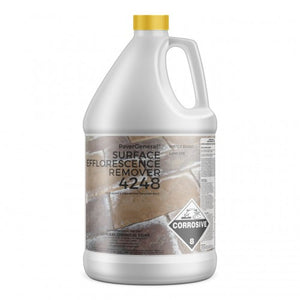 Efflo Cleaner
Discover The Efficient Way To Remove Efflorescence Stains From Your Paving Stones!
 
Does your outdoor surface have efflorescence stains caused by rain or dew? Do you want to easily and cost-effectively remove those salt stains yourself? Are you looking for a reliable, professional-grade brick stain remover? 
 
Presenting The Ultimate Efflorescence Remover 4248 By PaverGeneral! 
 
Now you can effortlessly remove stubborn efflorescence stains from your indoor or outdoor surfaces in just 10 minutes, thanks to our strong acidic treatment, which is designed to effectively dissolve soluble salt stains and bring back the natural beauty of your surface. 
 
Why Choose Our Stain Remover For Natural Stone? 
It Will Not Discolor Your Surface – while other efflorescence removers may cause damage to your surface, the PaverGeneral stain remover for brick is designed to protect your surface's natural color while eliminating efflorescence. 

It's The Smart Way To Prepare For Sealing – prior to sealing or waterproofing your surface, you need to make sure that there are no soluble salts on the surface, which may compromise the results. That's exactly why our efflorescence removal liquid is a must have!

It Works In Just 10 Minutes – now you don't have to spend an entire day waiting for your granite stone stain remover to work. All you have to do is let it react for 5 to 10 minutes and wash off with a pressure washer. That's it!